SofAlert – Road Safety
---

While you never know when disaster may hit, you can always protect you and your family with SofAlert.  Emergency stops and flat tires happens, so be prepared for any possible accident with the SofAlert Road Safety Kit, a complete kit that dramatically enhance safety by increasing visibility and comfort while changing a tire or during an emergency stop
It is estimated that every year over 4,000 pedestrian are killed and over 69,000 are injured in traffic accidents in the United States.  Many are killed while changing a flat tire during low visibility conditions.
You Deserve To Come Home.
---
Features:
Rubber Pad for Knee Support and Protection – Protects knees and garments against uneven surfaces, gravel, dirt, moisture, snow, mud, etc.  Made from recycled rubber (Patent Pending).
Electric LED Safety Light – Shatterproof and water resistance.  Features two flashing patterns.  Visible over one mile away.  Over 100 hours of battery life (flashing mode).  Can be attached to any metallic surface or place on the road as a safety flare.
Safety Vest – Custom design safety vest with highly visible reflective tape (ISO 20471 and ANSI 107 Compliant).
Storage Reflective Bag – The complete kit is stored in our special reflective bag. The bag can be used as an emergency warning flag or to store additional items in a secure way.
Safety Gloves – Keep you hands safe from scrapes and abrasions with our comfort grip gloves. Nitrile Foam Coated, Oil Resistant, Excellent Dexterity, Maximized Tactile Sensitivity.
Logos – For special orders and corporate accounts we can add your logos in the Safety Vest and Storage Box.
Product Overview: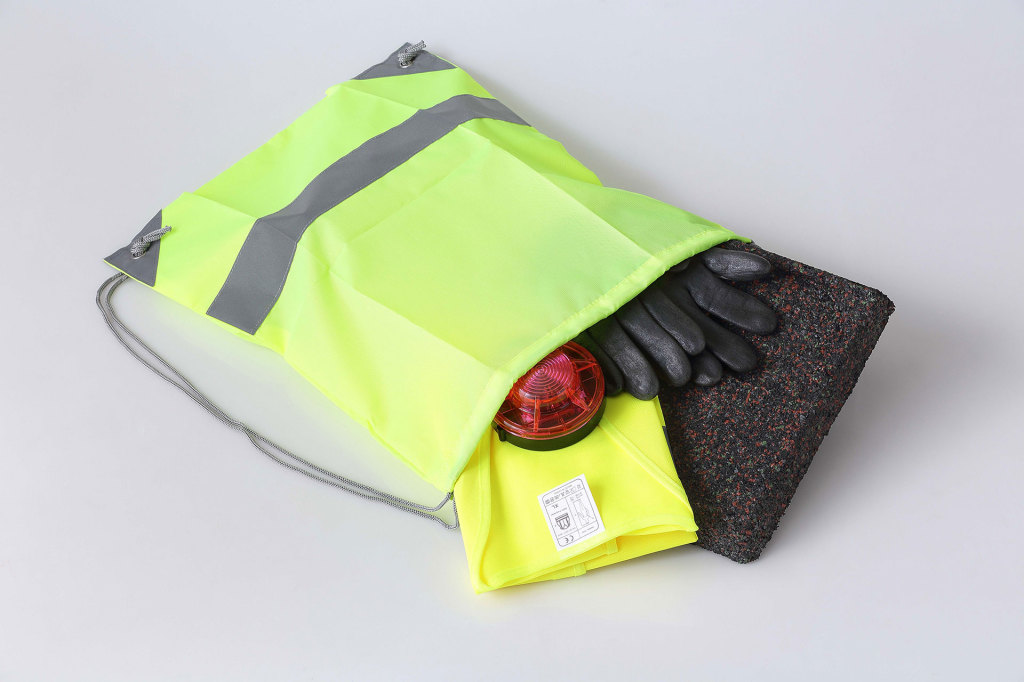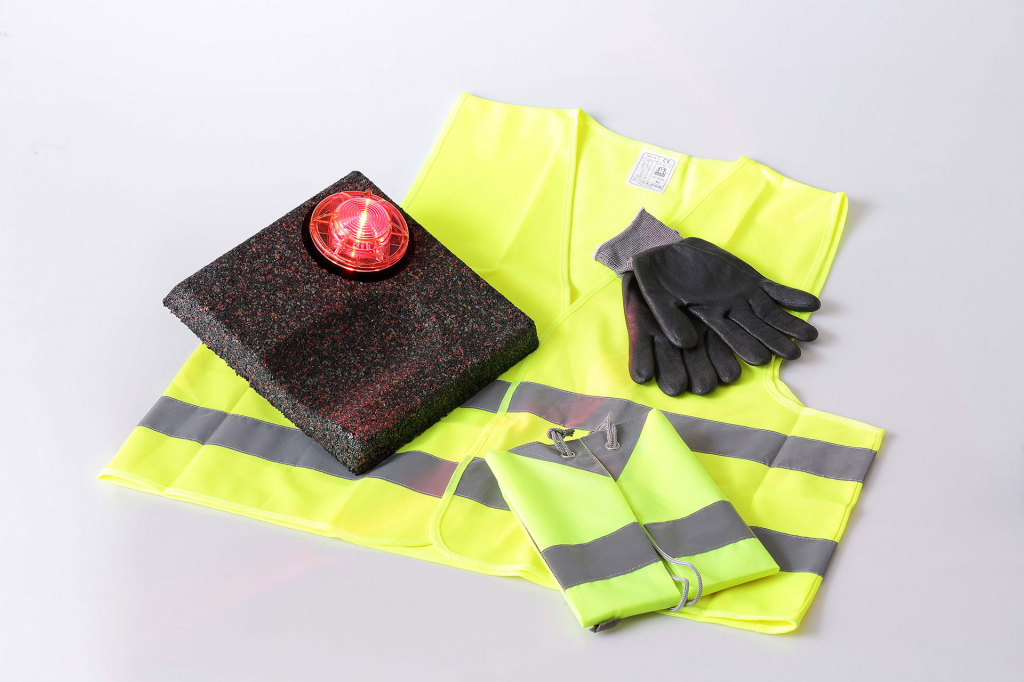 ---
Why SofAlert?
We believe that you should come home safe and unscathed after changing a flat tire or any emergency stop.  For us it is tragic to hear that somebody was killed while changing a flat tire.  Jose E. Valentin, a polymer engineer and president of Sofscape had a revealing experience:
"One evening I was driving home from a mountain bike trip when I puncture a tire of my truck on a major local highway.  My first concern was the vehicles buzzing by me at 65 mph.  To increase my visibility to the oncoming traffic I used my flashing red bike light.  My second concern was my bad knees. I suffer from mild arthritis and as I was wearing shorts I wasn't looking forward to kneeling on the hard asphalt.  Luckily I had a rubber paver that Sofscape manufactures.  I used it to protect my knee while changing the tire.  We added a few handy items to complement the kit but that's how SofAlert was born."  
We are firmly committed to standing behind each of our products and are constantly trying to make them better. If you ever need any help with our products, please contact us by phone at 787-807-0010 or send us an email at info@sofscapecaribe.com.
---