About
---
History
Sofscape has a very unique and interesting history with many different groups interacting to create a unique green/ecological company.
Our founder and president, José E. Valentín started in the recycling business in 1998, after working for over 10 years in the plastic injection molding industry. During the year 1998, Jose meet Mr. Moses B. Glick an outstanding Amish, inventor, farmer, machine designer and innovator.  Glick's disruptive thinking and exceptional personal values accomplished what others thought was impossible, to develop a recycling molding system with a capacity of producing over 450 rubber pavers per hour.
---
José E. Valentín
Born in Rio Piedras, Puerto Rico, as the first of three children to a mother who was a longtime General Electric employee, and father who was a career postman, former marine and boat hobbyist. In his youth, Valentín could often be found windsurfing or riding sports bikes. He was mechanically inclined and learned a great deal about molding and resins repairing boats and surfboards with his father. Valentín studied engineering at the University of Detroit (B.S. Polymer Engineering), where he held summer internships doing technical work at General Electric.  After graduation he installed a plastics injection-molding facility for a multinational in Puerto Rico. Valentín's experience with molding equipment helped him land a position with Microsoft setting up a CD manufacturing facility in Puerto Rico, where he led a team of 10 technicians.
---
Company Timeline
| Period | Event |
| --- | --- |
| 1998 to 2001 | Research and development of the molding/recycling technology (patented) |
| 2001 to 2003 | Initial product sales from Manheim, PA |
| 2006 | Fabrication of first commercial molding machine version for Sofscape |
| 2007 | Started mass production at Sofscape Caribe facility (Puerto Rico) |
| 2009 to 2010 | International Exposure – Sofscape Molding System sold in world-class tire recycling facility in Sharjah (UAE) |
| 2012 | Start processing truck tires and producing crumb rubber |
| 2014 | Start contract manufacturing project in Canada |
From Idea to Business
Valentín had always been interested in recycling matters and especially those related to the problem of huge used tire stockpiles thus after three years at Microsoft Molding Department he sold his stock option and decided to pursue full-time his ideas on recycling discarded tires. Around the same time, Valentín met Amish engineer Moses Glick at a recycling tradeshow in Nashville, Tennessee. Valentín presented his idea for a paver manufacturing system that would produce 250 pavers per hour, but to his surprise he learned that Glick already had a prototype that was twice as fast. So Valentín spent 1998-2001 living on and off with the Glick family in Lancaster, Pennsylvania to help develop prototypes, while continuing to travel to trade shows and visiting manufacturers to develop a business plan, brochures, and a website.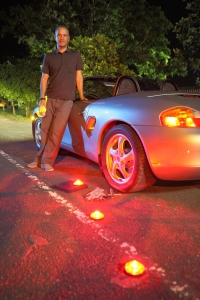 By the end of 2001, Valentín started testing the market and he had his first order, a 1,500 square foot playground of a Puerto Rican Head Start program. These first pavers would come from Glick's Pennsylvania factory, with expectations of orders yet to come, Valentín set about raising capital to establish a full blown commercial operation in Puerto Rico, which would ultimately cost over $2 million to build and launch. After being turned down by two dozen potential investors, Valentín raised capital with the Spectrum Group, an informal investment group of Puerto Ricans that included businessman Cesar Montilla. In 2004, Valentín raised the capital from 10 angel investors and the Spectrum Group, and in 2005, Sofscape obtained a loan from EDB to build a manufacturing plant.
Jose assisting Moses in taking the technology to a new level such as preparing in technical documentation, formal ASTM product testing, preparing sales and marketing material, opening a new market in Florida and the Caribbean, and taking the molding/recycling technology into a commercial success.